news - 13/04/2019
BRABO 2019 (Antwerp Dog Show) - Belgium
---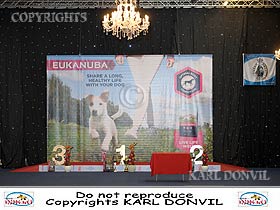 by Karl Donvil
---
BRABO 2019 Antwerp had it's first double show, hoping to have a lot of entries, more than two years ago when they had 2152 dogs. last year was not bad either with 1826. This year they had 2652 entries in total, resulting in two small CACIB shows, one with 1360 dogs, called the Antwerp Winner" and the one from Sunday with only 1292 entries, called the Brabo Winner. It is no secret any longer that I have a problem with double shows. I made comparisons to the show from last year and the show from Saturday. Last year the show had 26 breeds more and 466 dogs. Last year there were 83 breeds with two entries or less. This year 80, but the 26 extra breeds are supposed to be the rarer ones and normally the ones with one or two entries. Double shows with only that amount of entries are just giving away CACIB's as there is/was not competition. I know that it is difficult for certain unpopular breeds to become champion is there had to be a minimum quota of dogs in competition. But now it is not fair either if an unpopular dog becomes champion when he never had any strong competition and more often, any competition at all! It demonstrates the relativity of championship titles and it is time to reconsider the system again. An option could be to grant every dog "Nominations to Championship" and that Full Championship can only be granted if one of the CACIB's has been won from a competition of 10 for example. So if a breed is rather unpopular in a country, a dog of the breed can win a Nomination to Championship that will be ratified from the moment the same dog wins a CAC, CACIB or a ResCACIB in a competition where minimum 10 specimens of the breed were represented. An extra advantage would be that owners of such a breed would set their money on shows where big competition can be expected and organizers of shows would try to establish such a competition, searching collaboration with breed clubs to hold more breed specialties. We would also get rid of double shows, have more specialized judges invited and judges could build up more experience. Indeed, the more breeds a judge is allowed to judge, the more interesting he is for double shows as the committee likes them to judge on both days including lots of breeds with one or two specimens. And is there anything worse than judges with no experience in breeds as they only ever saw one or two specimens and often the very same ones on several shows. Things need to be reconsidered and change, that's for sure!
The president of the club was very worried as a few days prior to the show there were not half of the entries he finally had. People are spoiled with the online systems to enter a dog for a show. It's so easy and convenient, but for the organizers, it can be a nightmare as one is afraid until the very last days if there will be enough money to cover all the expenses and rising the price the later one waits, does not seem to make much of a difference. It's a rather strange evolution, people seem not to worry about paying 20 or even 50% extra. The club had to hire an extra hall to accommodate 23 rings and while last year they invited 24 judges, this year, because of the double show, they had to invite 33 judges. One can ask if a double show really makes a difference. The dogs/judging day rate has also decreased from 47 last year to only 44,2 this year. Fortunately, 14 of them were Belgian judges allowing the committee to economize on expenses. A few judges were outstanding in entries to judge. On Saturday its was Mrs. S.Radziuk from Belarus had77 dogs and 135 over the weekend. Mrs.SWalsh from Ireland was the best scoring judge of Saturday with 94 dogs, including 30 French Bulldogs and 23 Cavalier King Charles Spaniels. SHe had another 45 dogs to judge on Sunday. Mr.Al DDaghistani from Serbia had 81 dogs on Saturday. Another 114 entries on Sunday lead him to an astonishing number of 195 dogs, the best score of Sunday and the Best score overall. Mr.Zgabeylu Z. from Azerbaijan had 77 entries and Mr.Piet Roosenboom from Belgium, 100. He had 32 Zwergschnauzers and 32 Bulldogs that day. From Cyprus, Mrs.KelverPhilippou S. was invited. With her 66 entries of Saturday and another 105 of Sunday, she ended second best of Sunday and second-best overall. The best scoring breed was the Golden Retriever with 35 entries for Mrs.C.Rooney from Ireland. Where are the times that a regular show had 60 to even over 100 of them entered? It seems like people discovered that there are more interesting breeds but Labradors and Goldens. But still, they remain some of the most popular breeds.

After many years of struggling to have a nice main ring, the committee must be congratulated this time. What a nice main ring, what a nice podium! And...finally, it was decided to just have 3 dogs in each category placed, bravo! The podium was long and only slightly elevated, allowing much more comfort for the handler to place the dog and not creating stress for the dogs when the had to be tilted on a podium or had to jump. The background was a huge publicity board of the sponsor and could have been more discrete. A few small logos, placed strategically on the black starlit curtain, would have been even nicer. But OK, it was a huge improvement compared to other years. Was this perfect then? It could have been if the numbers were placed differently. Now it was 3-1-2 with the numbers 3 and 2 on each very end. No problem for number 3 who had enough space next to the big bronze number 3. Same for number 1 right from the golden number 1, but there was no place left, right from the silver number 2, and constantly there was confusion. Placing the dogs behind the big numbers plus the cup, plus a pot of flowers, plus a bag of dogfood, was no option for a nice photo of the winner and certainly if it was a small breed. And right from the number, there was always interference and not enough space to place two dogs of normal size. It should have been much more simple if the placed the numbers in order 1-2-3 like it is always done on major shows like the World- and European show and Crufts. It could have been done there from the moment it was clear that the current position of the numbers was causing troubles, but nobody wanted to take the responsibility to make a change as it was extensively debated by the board prior to the show. I cross my fingers for next year and then I can write that this is one of the best podia in Belgium!

The catalog is very informative including statistics and diagrams. It learns that there are much more females than males entered and that the Companion group (group 9) was as large as the guard- and protection dogs (group 2), larger than the Herding group (group 1). We could also see that dogs were entered from 21 nationalities, that the main difference between Saturday and Sunday in entries was caused by the Belgian entries, a difference of 91 dogs and that the entries from the UK represented 4% or 53 dogs. And furthermore one could easily find everything that was needed in the catalog, including a floorplan and addresses. During the day, however, there was much less activity in the main ring, only some Dog Dancing. Brabo is such a big club and has been a trendsetter over the years, so where are all the other activities that this club has on offer? It is not an evolution one sees here only, it is general. The number of visitors is decreasing everywhere, and all those demonstrations demand a lot of organization. But one can ask what the reason is for the lack of public interest? If there is no entertainment, people think they don't get value for their money, while organizers ask themselves if it is worth organizing something if there is hardly any interest. It's like the story of the chicken and the egg.

One thing is for sure, the main ring program started right in time and the judging went very, very fluently! That is necessary in case of a double show as it puts extra pressure on the program as all the groups are on turn, a difference of minimum one hour. Mrs.Ingrid Hectors, wife of the club's president, was the Best in Show judge on Saturday. She made a very international choice. Her 3rd place went to a Bobtail from France, Le P'Tit Prince of Reality Dream, owned by Mr. Frank Tocquer, 9 were entered for judge Mrs.Radziuk. ResBIS went to a dog from the United Kingdom. It was the Bichon Frisť "Manoir'sMan for all Seasons" He was the best out of 6, judged by Mr.Vanaken from Belgium. The Best In Show on Saturday was a Flat-Coated Retriever from Denmark, owned by Mrs. Jensen Dorte. There were 15 in his breed, entered for Mr.Peixoto from Portugal. On Sunday Mr.Gustaaf Van Den Bosch, also from Belgium, was granted the honor to pick out the Best In Show. He started with placing the Afgan Hound "Kochliwy Ksiaze z Korczowki", a Polish bred dog owned by Hoornaert Michael. He was entered for Mr. Vanaken who had 14 in his ring. ResBIS was the Bearded Collie "Beardie Connections Kenji" a famous winner, owned by Otto Rinus from the Netherlands. He was chosen out of 6 by Mr.Agabeyki from Azerbaijan. The title of Best In Show was for Peter Vanzeer from Belgium who showed his Medium Size Poodle black "Nero E Bianco Q-Caesarion". Mrs. Rooney from Ireland was their judge.

Next year will be a single show again. I can only hope that that edition will not be too much affected by the abundance of double (small) CACIB shows. A certain percentage of exhibitors only need a certain number of titles to start breeding. If they have them without effort in 1,2,3 then they will not spend extra money and stop showing. We have to be aware of the possible consequences on long term, although the first signs are showing already. Watch out for the next show and dream yourself on the very nice podium with the Brabo trophy in front of you!

Article and Photos: Karl DONVIL

...